About Independence Blue Cross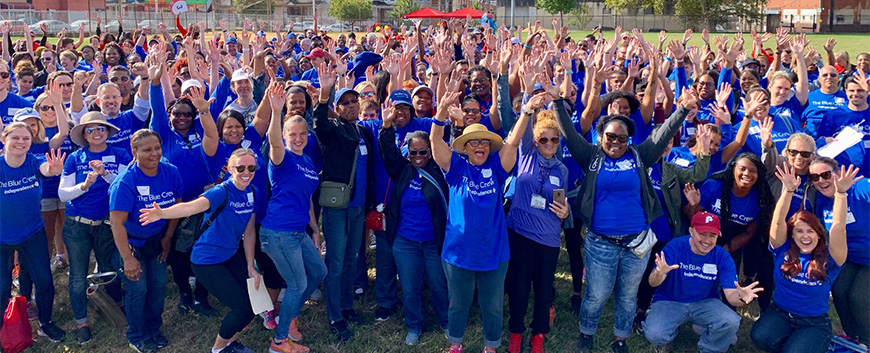 In 2021, the Blue Crew proudly celebrated 20 years of volunteer service in the region.
Blue Crew volunteer program
At Independence Blue Cross (Independence), we're passionate about our mission to enhance the health and well-being of the people and communities we serve. Since 2001, the Blue Crew, our volunteer program, has been a hallmark of this commitment and a testament to all that we can accomplish together.
The Blue Crew is emblematic of the power of corporate citizenship at Independence, allowing our volunteers to take the networking, teambuilding, and leadership skills they develop and use them to make Independence and our region a better place to live and work.
Giving back in ways big and small
Independence associates are active in volunteering year-round. Blue Crew volunteers are always ready to share their time and talents — from providing weekly literacy coaching to local elementary school students to supporting programs that improve health and well-being and reducing food insecurity in the greater Philadelphia region.
Blue Crew volunteer efforts
Due to the pandemic, in 2020 the Blue Crew transitioned to a virtual volunteering model. Our associates adapted to the change and continued to actively support the community through various remote and virtual volunteering opportunities.
Beginning May 2022, Blue Crew volunteers are now engaged in both hybrid and in-person volunteer efforts, both in our building and in the community.
The Blue Crew reaches a milestone
In 2021, the Blue Crew proudly celebrated 20 years of volunteer service in the region. Since it was established in 2001, Blue Crew members have volunteered hundreds of thousands of hours to local causes and supported more than 100 diverse nonprofit organizations across the region, including those that are working to address good health and well-being, food insecurity, and education and literacy.
Despite the challenges of the pandemic, nearly 1,000 associates volunteered to support over 100 Blue Crew virtual volunteer projects in 2021! As part of these efforts, volunteers packed over 125 homeless outreach kits, packed close to 300 school and hygiene supply kits for school-age children, packed over 100 baby bundles to help families with newborns get off to a good start, helped tutor and teach phonics skills to first and second graders, and mentored high school students. Additionally, 144 associates recorded 4,600 hours volunteering independently with more than 160 nonprofit organizations.
Are you a nonprofit interested in partnering with the Blue Crew?
Complete our request form now or contact bluecrew@ibx.com for more information about the program.
See what we're up to