Interventions and reminders
Preventive screenings
Independence Blue Cross sends periodic reminders to members about preventive screenings. These reminders encourage members to play an active role in their health care and take the time to get the following screenings:
Colorectal screening
Mammography screening
Pap tests
We developed a one-page cancer screening flyer to help health care providers remind and educate their patients about recommended cancer screenings. This tool provides recommendations for colorectal, prostate, cervical, and breast cancer for men and women at average risk. The information is adapted from nationally recognized health resources and is routinely updated to help keep our members informed and in good health.
Lead testing and developmental screening for children
Screening recommendation
The Pennsylvania Department of Human Services (DHS) and Healthcare Effectiveness Data and Information Set (HEDIS®) specifications recommend that children receive testing for elevated blood lead levels (EBLL) and developmental screening.
Who should be screened
Practitioners are encouraged to follow the Medicaid and Bright Futures™ guidelines for lead testing and developmental screening:
A lead blood test should be completed at ages 9 to 12 months and, again, by 24 months.
For children turning ages 1, 2, or 3, a screening for developmental disorders using a standardized and validated screening tool should be completed, even when there are no concerns.
Screening should be completed more often if there are concerns or additional risk factors.
Where and how can children be tested
To increase blood lead level screening rates in children and help address gaps in care, our Enhanced Lead Testing Program provides several testing options for patients who face barriers to getting tested:
Lead testing in the provider's office
Providers can perform the lead test sample collection during a routine office visit, using the filter-paper testing method. An alternative to the traditional lab-based collection process, the filter-paper testing method only requires two drops of blood.
Lead testing at Labcorp patient service centers, including Labcorp at Walgreens
Patients can also receive a lead test sample collection at any participating Labcorp patient service center (PSC), including Labcorp at Walgreens.* All tests are performed at a Labcorp lab, with results delivered to you in a few days. Patient caregivers can schedule a test online
* Use CPT® code 83655 to report the completion of lead testing in the office or at a participating Labcorp at Walgreens location.
Developmental screening documentation and resources
Examples of validated developmental screening tools are available on the Bright Futures™ website:
Use CPT code 96110 to report the completion of developmental screenings and add screening documentation to the member's chart.
The Philadelphia Department of Public Health offers a brochure that outlines recommended developmental screening tools, FAQs, billing tips, and screening workflow recommendations. Referral forms and an overview of Early Intervention agencies are also available for children in Philadelphia county.
Philadelphia residents can view the Check and Connect Brochure for more information.
Providers can refer children who have been identified with a suspected developmental delay to one of the local Early Intervention agencies listed below. Families and providers who have questions about a child's development may also call the CONNECT Helpline: 1-800-692-7288.
Identifying CHIP members
All CHIP members are enrolled in the Keystone Health Plan East HMO program and their Independence member ID cards contain the words, "PA KIDS" on the front as shown below.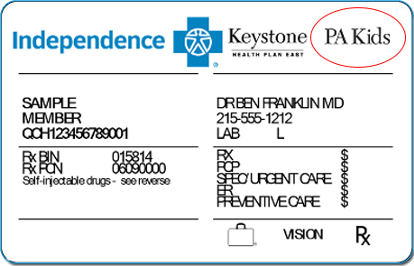 Important well-child visits to remember:
Providers are asked to perform well-child visits in accordance with the following:
six or more well visits by age 15 months
one or two well visits by age 30 months
CPT Copyright 2017 American Medical Association. All rights reserved. CPT® is a registered trademark of the American Medical Association.
Health and well-being for families
Independence members can find information about important health issues and services to improve the well-being of their families:
Resources
The following resources provide information regarding lead testing recommendations, prevention, and safety:
Chlamydia
According to the Centers for Disease Prevention and Control (CDC), "chlamydial infection is the most frequently reported infectious disease in the United States, and prevalence is highest in persons aged ≤24 years." Left untreated, chlamydia can cause serious pelvic inflammatory disease (PID), ectopic pregnancy, and infertility.
The CDC states, some women who receive a diagnosis of uncomplicated cervical infection already have subclinical upper-reproductive–tract infection. The CDC also reports that asymptomatic infection is common in both men and women. To detect chlamydial infections, health-care professionals frequently rely on screening tests. Annual screening is recommended for all sexually active adults and children.
Health care professionals are encouraged to refer to the Preventive Services Task Force Guidelines for details of screening recommendations. They can also refer to our Medical Policy Statement for coding details.