Health and wellness
Living a healthy life starts with taking good care of yourself. And keeping your life in step with good health doesn't have to be tricky. Explore the wide range of resources, support, and services available to our Medicare Advantage members.
Understanding your network
You have access to a large provider network of doctors, hospitals, and health care facilities in our area.
Keystone 65 HMO members
As an HMO member, your health plan only covers care received from in-network providers. However, out-of-network emergency care is covered for medically necessary services for emergency care. Keystone 65 Focus HMO-POS members have an annual point-of-service maximum that can be used towards out-of-network care, but they'll pay less for in-network care. Please note that the Keystone 65 Focus plan uses a defined network that is a subset of our Keystone 65 HMO network.
You are required to receive in-network laboratory services (like blood work) at a site your PCP chooses. You can view your PCP's designated site on the front of your member ID card or by logging into ibx.com.
Watch these videos to learn more about how your health plan works.
Personal Choice 65 PPO
As a Personal Choice 65 PPO member, you have the freedom to choose any doctor or hospital in or out of the network. But you'll pay less by selecting a doctor or hospital in the network.
Watch this video to learn more about how your health plan works.
---
Dental, vision, and hearing
Maintaining oral, vision, and hearing health is essential to staying healthy. That's why dental, vision, and hearing benefits are built into all of our Pennsylvania Medicare Advantage plans — at NO additional premium.
Taking care of your oral health can help detect and manage problems that could otherwise lead to more serious health issues down the road. Taking care of your vision can help prevent falls and maintaining good hearing can reduce your risk of social isolation and dementia.
All members receive access to benefits such as:
$0 in-network copay for oral exam and teeth cleanings once every six months when provided by an in-network United Concordia dental provider
Annual allowance for comprehensive dental services available on most plans
$0 in-network copay for one routine eye exam every year when provided by a Davis Vision provider
One pair of eyeglasses (frames and lenses) or contact lenses per year, up to the covered allowance amount, when purchased from Visionworks® or a Davis Vision provider
$0 in-network copay for one routine hearing exam every year when provided by a TruHearing® provider
Unlimited hearing aid fitting and evaluations every year — at no cost through TruHearing
Learn more about 2024 routine dental, vision, and hearing coverage by reviewing your 2024 Evidence of Coverage (EOC), Keystone 65 HMO dental/vision/hearing guide, or Personal Choice dental/vision/hearing guide.
Visit our Find a doctor, dentist, or pharmacy page to find a participating United Concordia dentist, Davis Vision provider, or TruHearing provider.
---
Primary care physician
Primary care is an important part of staying healthy. A primary care physician (PCP) provides basic medical care and regular checkups, oversees coordination of other health care services, and is the first to treat any health problems that arise. Your PCP will get to know your health history and medical issues. And they can serve as your key partner in taking care of your health.
To learn more about how to get started and the importance of primary care, view our Primary Care Journey flyer.
For Keystone 65 HMO Members: You are required to choose a in-network PCP, or family doctor and notify us of your choice. No matter which in-network PCP you choose, your copay will be $0, and you won't need a referral to see a specialist.
To choose your PCP online, log in or register at ibx.com. Click on the My Care tab and select Choose my Primary Care Physician from the drop-down menu.
To choose your PCP by phone, call our Member Help Team.
For Personal Choice 65 PPO Members: Though it isn't required, you may want to select a doctor as your PCP. Your PCP is the person who will coordinate your care. Regardless of whether you choose a PCP or not, you don't need a referral to visit a specialist. You'll pay less by selecting an in-network PCP or specialist.
To find in-network doctors, hospitals, and other health care centers use our Online Provider Finder tool.
---
Preventive screenings
Living a healthy life starts with taking good care of yourself. By scheduling regular checkups and health screenings, you're more likely to identify and treat a potential issue before it becomes a problem.
Independence Medicare Advantage plans cover many preventive services and screenings at no cost to you, including:
Annual wellness visit
Breast cancer screening
Colorectal cancer screening
Diabetic testing
Routine/Diabetic eye exam
Vaccines
View the full list of preventive screenings, vaccines, and other preventive care services on Medicare.gov.
---
IBX Care Card
Your IBX Care Card is a convenient way to save money and access your over-the-counter (OTC) and — NEW for 2024 for select plans — dental, vision, and hearing (DVH) flex benefits, all on one card. It comes preloaded with funds you can use at participating retailers. You may begin using your card the month your Independence Blue Cross coverage becomes effective. Learn more about the OTC and DVH Flex Benefit.
Visit mybenefitscenter.com, use the OTC Network® App, or call our Member Help Team to:
Locate a full list of participating retail stores. Some locations may not participate in the OTC network. Before visiting a store, be sure to verify participating retailer locations.
Confirm eligible OTC products.
Shopping for OTC items is easy using mybenefitscenter.com and the OTC Network app! View this user guide for step-by-step instructions.
View our top 30 OTC products available for purchase.
Shop at home through the Convey catalog at conveybenefits.com/ibx. View the Convey catalog.
To check your card balance, visit mybenefitscenter.com, use the OTC Network mobile app, or call the phone number on the back of your IBX Care Card, 24/7.
Have questions about your IBX Care Card and how it works? Take a look at our frequently asked questions for answers! Or call the Member Help Team.
---
Telemedicine
New for 2024! Save time and money with telemedicine through Teladoc Health
It's not always easy or convenient to go to a health appointment. With Teladoc Health, you can get virtual care from wherever you are…with a $0 copay!
General medical care
You have 24/7 access to board-certified doctors who can diagnose and treat non-emergency conditions such as sinus infections, flu, sore throats, allergies, earaches, pink eye, and more.
Mental health care
Schedule visits with a licensed therapist, psychologist, or psychiatrist and get support for depression, anxiety, stress, grief, and more.
Dermatology
Connect online with a board-certified dermatologist who can provide timely answers to questions about new or chronic skin conditions like rashes, acne, eczema, and rosacea.
Get care from the comfort of your home via your computer, tablet, or smartphone. Visits are available in several languages through an interpreter, including American Sign Language (ASL).
You will have access to Teladoc Health starting January 1, 2024. Learn more about your 2024 telemedicine benefit.
In the meantime, you can continue to get telemedicine care through MDLIVE®.
Access to the MDLIVE portal and scheduling support is available 24/7, 365 days per year. To schedule, visit ibxmedicare.com/mdlive or call 1-888-961-4188 (TTY: 1-800-770-5531).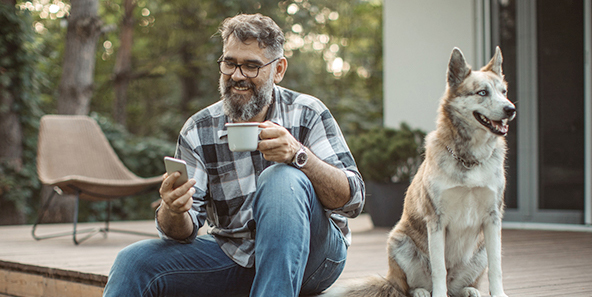 Get connected
Stay up to date, without all the paper. Get coverage info, personalized screening reminders, and tips for maximizing your benefits through email and text.
Fitness membership
Stay active with a no-cost fitness membership through One PassTM!
A One Pass membership gives you access to a variety of physical, social, and mental fitness programs. You can visit one of the many gyms in the One Pass network (including all local YMCAs), take in-person or virtual classes, attend social events and classes, receive a fitness kit shipped right to your door, get access to BrainHQ, a brain-training program, and more!
Getting started with One Pass is simple.
Create a One Pass account to get your unique One Pass member code and access to all that One Pass offers, both in person and online.
To get started visit youronepass.com or call One Pass at 1-877-504-6830 (TTY/TDD: 711), Monday through Friday, 9 a.m. to 10 p.m.
To locate a participating gym near you, Find a gym near you.
Learn more about this fitness benefit.
Need help navigating the One Pass portal? View the One Pass user guide.
---
Personal health visits
To make managing your health easier and more convenient, members have the option to participate in our Personal health visit (PHV) program. Licensed medical professionals will meet with you, at your home, or virtually, to perform a personalized health assessment and physical exam. These visits are a helpful and convenient way to get personalized health advice from the comfort of your home and are offered to you at no extra cost.
This service is optional, and the visits will not affect your current health insurance benefits or premiums.
---
Independence health rewards*
Doing the right thing for your health is full of rewards. As an Independence Medicare Advantage member, you're invited to earn and redeem gift cards from some of your favorite retailers.
We created this program to make it easy — and extra rewarding — to stay healthy. It all starts with an annual wellness visit available at no cost to redeem your first reward. And for 2023, you can earn more by redeeming rewards for certain preventive care or social and lifestyle activities. Earn and redeem your rewards for 2023 no later than 12/31/2023.
For details on how to get started, earn, report, and redeem, take a look at our rewards program quick reference guide. Keep it handy and add up your rewards!
For step-by-step instructions, download the Independence health rewards user guide.
*Terms and conditions apply. See https://rewardsgenius.com/reward-link-terms-of-service for more information. Reward values may change at any time.
---
Update magazine
Update magazine is distributed to Medicare Advantage members three times a year and has grown to become a member favorite! Each issue focuses on health and wellness content, including recipes, informative stories, and workout ideas, as well as helpful tips for how members can utilize their benefits.
View our latest issue of Update magazine online by clicking on the image below!
---
Registered Nurse Health Coaches and Case Managers
Members have 24/7/365 access to a Registered Nurse Health Coach at no added cost. A Health Coach can work with you to manage a chronic condition, assist you with a complex health problem, or help you address everyday physical and mental health issues. Health Coaches and Case Managers are specialized registered nurses and licensed social workers.
Independence offers free, personalized services of a Registered Nurse Health Coach and Case Manager who will listen to your health concerns and work with you to set, achieve, and maintain your health goals. Health Coaches and Case Managers provide you with an added level of support to help you stay healthy, manage your chronic condition(s), identify emerging risks, follow your doctors' treatment plan, and navigate your health journey. Health Coaches and Case Managers may also refer members to an Independence Social Worker for assistance with community resources.
To speak with a Registered Nurse Health Coach, just call 1-800-275-2583 (TTY/TDD: 711) 24 hours a day, 7 days a week.
Enhanced Disease Management services
Health Coach services provide extra help to eligible members with chronic health conditions. You may be referred to a Health Coach by your treating physician, or a Health Coach may call you to assess your overall health and well-being.
You have the right to opt in or opt out of Health Coach services. If at any time you wish to end these services, simply advise your Health Coach. You can also call the number on the back of your member ID card and ask that you not be contacted by a Health Coach in the future.
---
One Day University
Experience the joy of lifelong learning! Members have access to free, unlimited classes through One Day University. Explore exciting topics through daily live talks and prerecorded lectures from your own home.
One Day University works closely with top professors from various colleges and universities to develop fascinating lectures designed to inform and inspire. And don't worry there's no grades, tests, or homework!
Access One Day University at onedayu.com/ibx. Click "start your free membership now" to create an account and complete your free purchase.
---
Transportation to health visits
For eligible members with both diabetes and congestive heart failure, our transportation benefit provided by Roundtrip makes it easier for you to get to and from your essential health visits at no cost. Receive 24 one-way rides (or 12 round-trip rides) per benefit year to plan-approved facilities. Available for most plans
New for 2024! Book and manage your rides through the Roundtrip Rider app.
Contact our Member Help Team to confirm eligibility.
Learn more about the transportation benefit.
---
Grocery
For eligible members who have both diabetes and depressive disorders your grocery benefit through FareRx includes four weeks of grocery deliveries at no cost for a maximum of four weeks per member per benefit year. Available for most plans.
Your grocery deliveries will contain fresh, local produce and food — along with a recipe guide that offers ideas on how to use them.
Contact our Member Help Team to confirm eligibility.
Learn more about grocery delivery.
---
Visitor/traveler coverage
Personal Choice 65 members are eligible for the optional visitor/traveler benefit, which lets you take extended visits (up to 12 months) to places in the shared Blue Cross®/Blue Shield® visitor/traveler service area. If you visit participating providers in these 48 states and two territories, you'll pay the same cost-sharing amounts as if you received covered benefits from in-network providers at home.
Participating territories include Puerto Rico and the District of Columbia. States that are not participating are Alaska and Wyoming.
Y0041_HM_113082_M_2024
Website last updated: 8/4/2023