Health and wellness
Keeping your life in step with good health doesn't have to be tricky. Explore the wide range of information, services, and events available to you.
Dental, hearing, and vision
Dental, hearing, and vision benefits are built in to all Medicare Advantage plans at NO additional premium. All members receive access to benefits such as:
$0 copay for one routine dental exam/cleaning every six months
An annual allowance for comprehensive dental services (varies per plan)
$0 copay for one routine eye exam per year
One pair of eyeglass frames and lenses or contact lenses up to the covered allowance amount every year
$0 copay for one routine hearing exam per year
Unlimited hearing aid fitting and evaluations every year — at no cost
Learn more about 2022 routine dental, hearing, and vision coverage by reviewing your 2022 Evidence of Coverage (EOC).
---
Primary care physician
Visit any primary care physician (PCP), or family doctor, in your plan's network and pay a low copay.
For Keystone 65 HMO members, your PCP will tell you where to go for laboratory services. You can locate this designated site information on the front of your ID card.
---
Preventive screenings
Regular checkups and screenings can help spot health conditions before they become problems. Certain preventive screenings, such as breast cancer and colorectal cancer screenings, will have a $0 copay even if they become diagnostic.
---
IBX Care Card
Medicare Advantage members are eligible to receive an IBX Care Card to purchase over-the-counter (OTC) medicines and health-related items. Your IBX Care Card is prepaid and automatically reloaded each quarter. Your allowance will not carry over to the next quarter if it is not used.
For more information on how the program works, please visit ibxmedicare.com/carecard.
---
Virtual care
Speak to a board-certified doctor any time of the day or night, over the phone or by video chat — all from the comfort of your home. Non-emergency and behavioral health virtual visits have a $0 copay. Visit ibxmedicare.com/mdlive or call 1-888-961-4188 (TTY: 1-800-770-5531), 24/7 for more information.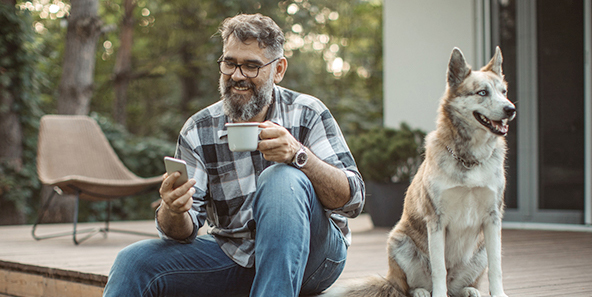 Get connected
Stay up to date, without all the paper. Get coverage info, personalized screening reminders, and tips for maximizing your benefits through email and text.
SilverSneakers®
Medicare Advantage members are eligible for the SilverSneakers fitness program, offered at no additional cost. Members can work out at home or at more than 15,000 fitness locations. To find fitness locations, request your SilverSneakers ID card, or get additional details, visit silversneakers.com or call 1-888-423-4632 (TTY: 711), Monday through Friday, 8 a.m. to 8 p.m.
---
Personal health visit
Personal health visits (PHV) are visits from a licensed health professional. These visits last about an hour and include a brief health assessment. They are a helpful and convenient way to get personalized health advice, and are offered to you at no extra cost. This service is optional, and the visits will not affect your current health insurance benefits or premiums. You may receive a call or a flier in the mail from one of our health care vendors to see if you're interested in scheduling a visit.
---
Independence health rewards*
Doing the right thing for your health is full of rewards. As a Medicare Advantage member, you may be eligible to redeem gift cards from some of your favorite retailers.
We created this program to make it easy — and extra rewarding — to stay healthy. It all starts with an Annual Wellness Visit available at no cost to redeem your first reward. Then, you can redeem rewards for certain preventive care services. And new for 2022, you can earn even more for participating in nutrition and well-being programs.
To get started, register or log in to our member site at ibx.com or call New Ocean Health Solutions at 1-877-268-3646 (TTY/TDD: 711), Monday through Friday from 8 a.m. to 6 p.m. We have contracted with New Ocean Health Solutions, an independent company, to assist with your Independence health rewards program.
For instructions on how to earn, report, and redeem your rewards, please view our user guide.
*Terms and conditions apply. See https://rewardsgenius.com/reward-link-terms-of-service for more information. Reward values may change at any time.
---
Update magazine
Update magazine is delivered several times a year to our Medicare Advantage members. The newsletter covers topics ranging from recipes to informative stories on common health issues to detailed information about Medicare plans. View our latest issue of Update magazine online by clicking on the image below!
---
Health Coaches
Sometimes you need a little extra support when you're managing a chronic condition or more complex health situation. That's when an Independence Blue Cross Health Coach can help.
Independence Blue Cross offers Keystone 65 HMO and Personal Choice 65SM PPO members free, personalized services of a Registered Nurse Health Coach who will listen to your health concerns and work with you to set, achieve, and maintain your health goals. Health Coaches provide you with an added level of support to help you stay healthy, manage your chronic condition(s), identify emerging risk, follow your doctors' treatment plan, and navigate your health journey. Health Coaches may also refer members to an Independence Social Worker for assistance with community resources.
What is a Health Coach?
A Health Coach is a Registered Nurse and is available to help you with one or more of the following:
Managing chronic conditions such as asthma, diabetes, heart disease, or multiple conditions
Coping with a serious illness or accident, like cancer or a stroke
Answering questions about everyday health concerns for you or your family
Coordinating services needed related to a hospitalization, procedure or illness
Understanding your medications and how to safely take your prescriptions
Explaining complex health issues, tests or procedures
Supporting our members through difficult and personal struggles
Connecting our members to resources and extra, outside support to community-based organizations or programs
How to reach a Health Coach
Keystone 65 HMO and Personal Choice 65SM PPO members have round-the-clock access to a Health Coach for all health-related questions and concerns. To reach a Health Coach, call 1-800-ASK-BLUE (1-800-275-2583; TTY 711), after you provide the requested information, say the phrase "Health Coach" to be connected to the next available Health Coach on the line. Health Coaches may also call our members directly to offer assistance if a member has had a recent medical event or a chronic condition for which they are receiving treatment.
You have the right to opt-in or opt-out of health coach services at any time by simply advising your health coach of your wishes. You may also call the number on the back of your ID card and request that you not be contacted by a health coach in the future.
---
Preapproval/precertification/prior authorization for services
Some of the services listed in the Medical Benefits Chart included in your Evidence of Coverage (EOC) are covered only if your doctor or other provider gets approval in advance (also known as "prior authorization," "preapproval," or "precertification") from us.
Some Part B drugs require precertification. Please refer to our precertification list.
Covered medical services and durable medical equipment (DME) that need approval in advance are marked in the Medical Benefits Chart by an asterisk. For more information about prior authorizations and a list of durable medical equipment suppliers, please view our prior authorization section.
For Keystone 65 members, you have a primary care provider (PCP) who is providing and overseeing your care. In most cases, care you receive from an out-of-network provider will not be covered.
For Keystone 65 Focus Rx HMO-POS members, you have a primary care provider (PCP) who is providing and overseeing your care. You may use an out-of-network provider, but coverage is very limited, and you'll save money by using an in-network provider.
For Personal Choice 65SM members, you can receive care from both in-network or out-of-network providers. You may use an out-of-network provider, but you'll save money by using an in-network provider.
Your EOC provides more information about requirements for using network providers and the situations when we will cover services from an out-of-network provider.
---
Medical Policy
For more information regarding our medical policies, visit our Medical Policy Portal.
---
Drug Management Program
We have a program that can help make sure our members safely use their prescription opioid medications, or other medications that are frequently abused. This program is called a Drug Management Program (DMP). If you use opioid medications that you get from several doctors or pharmacies, we may talk to your doctors to make sure your use is appropriate and medically necessary.
---
Drugs, alcohol, and tobacco
Spouses and families play a crucial role in helping loved ones stay drug-, alcohol-, and tobacco-free — and fortunately, there are a number of resources and tools that can help.
Immediate assistance
Help quitting
Tobacco: Smokefree.gov provides free, accurate, evidence-based information and professional assistance to help support the immediate and long-term needs of people trying to quit smoking.
Alcohol: Alcoholics Anonymous — 1-212-870-3400 is open to anyone affected by an alcohol-related disorder. There are no age or education requirements.
Drugs: Narcotics Anonymous is an international, community-based association that provides a recovery process and support network for those affected by substance abuse disorders.
Y0041_HM_99206_2022
Website last updated: 3/14/2022