Image Gallery
Independence Blue Cross and Blue Cross Blue Shield of Michigan announce new national business venture
The following images are available for download: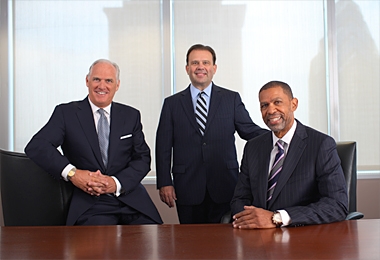 IBC and BCBSM will be partnering to expand services to Medicaid beneficiaries nationwide through AmeriHealth Mercy. From left to right: Daniel J. Hilferty, Independence Blue Cross president and CEO; Daniel J. Loepp, Blue Cross Blue Shield of Michigan president and CEO; and Michael A. Rashid, AmeriHealth Mercy Family of Companies president and CEO.
Download a high resolution zip file of the above photo.
IBC Corporate Headquarters — photo | street level view